When Is The 2023 Genesis G80 Release Date?

Shop 2022 Genesis G80
A specific 2023 Genesis G80 release date has not been confirmed, but according to manufacturer estimates, it's coming sooner than you may think. We've been informed that this new take on the full-size luxury sedan is set to launch sometime in spring 2022. But what does this "new take" entail? From powerful all-electric vigor to spectacular interior details that would be at home on the workbench of a prestigious jeweler, there's a lot that goes into the answer to this question.
We'll walk you through it all, and once the release date arrives, you'll be able to feel the immense comfort and power it provides at our Genesis dealership. Read on to learn more about the all-electric 2023 Genesis G80.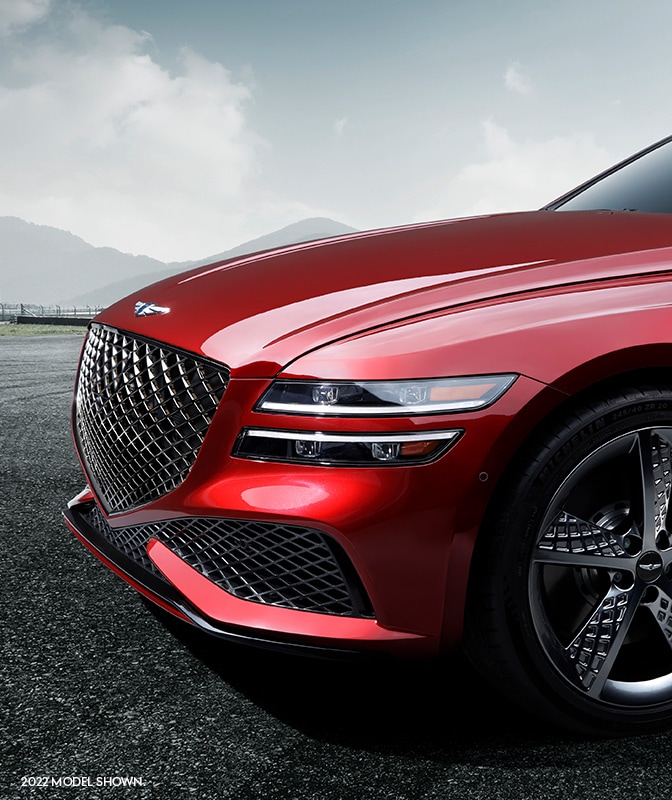 2023 Genesis Electrified G80: Inspiration Strikes Like Lightning
Every model in our new Genesis inventory stands for luxurious excellence. But what makes a car truly luxurious? You can call it a focus on high-quality comfort, but the real answer goes much deeper.
A luxury car has to cater to all your needs and with precision. It must be ahead of the pack, a constant showcase of innovation, and a powerful experience that stands above the rest. The Genesis G80 is an already-spectacular example of this definition brought to life.
But it can be taken even further.
Caring for the world we live in is as important as caring for ourselves, and this philosophy inspires the 2023 Genesis G80 electric. Make no mistake, though, the lack of environment-harming emissions is only part of the story. The other is a silent drive that bursts forth with sporty acceleration yet unleashes speed with silky smoothness for total driving enjoyment.
2023 Genesis G80 Specs: Ready for Your Lifestyle
Just how powerful is the 2023 Genesis G80 engine? Currently, a horsepower figure is unavailable, but the Genesis brand has announced an estimated 0 to 60 mph time of 4.9 seconds. For comparison, the most powerful configuration for a gas-engine Genesis G80 will make the 0 to 60 mph sprint in around 4.7 seconds.
Leaving fuel pumps behind requires no compromise in the 2023 Genesis G80. It will be lined with advanced electric driving features like regenerative braking, a quick-charging system, and tech to optimize the battery according to the weather outside.
The 2023 Genesis G80 electric range has yet to receive an EPA rating, but we expect a figure of around 265 miles1 on a fully charged battery and also expect all-wheel drive to be standard.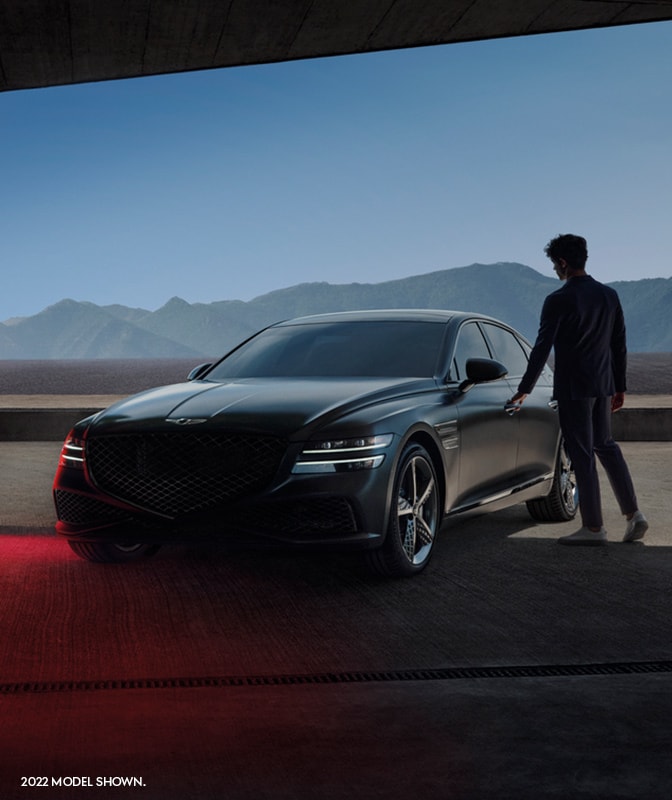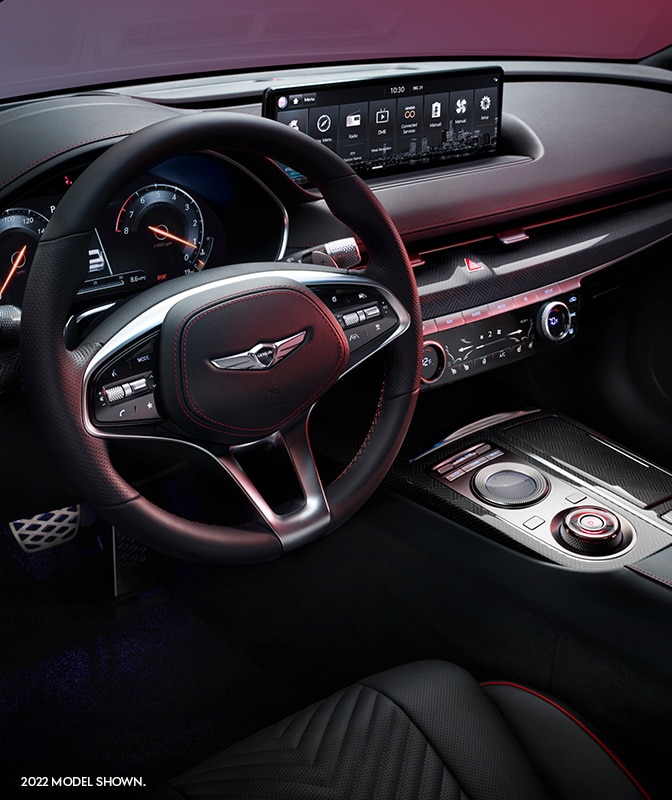 2023 Genesis G80 Design: Elegance Defined
What makes a new Genesis special so special? In our opinion, it's a blend of pure comfort with jaw-dropping details and design. The 2023 Genesis G80 is primed to enhance the model's exclusively styled interior and exterior.
We start the tour on the outside. It has an aerodynamically sculpted design that looks like the car of the future while also paying tribute to iconic touches of the past. The fastback-style rear flows into striking LED taillights, and as you move up the body, chrome details highlight a supremely sleek body.
In the front, the 2023 Genesis G80 release date will continue to carry forth the iconic Genesis crest grille. But rather than having airflow holes, it will include a quilted diamond-pattern design with a cleverly-hidden door that reveals a charging port.
The interior is a masterclass on how to blend traditional physical luxury with cutting-edge modern technology. The overall style of the current Genesis G80 is present, but with an overhaul that lines it with never-before-seen materials like Forged Wood, a mix of futuristic forged carbon and classic wood looks, and nappa leather with natural dyes. On top of this innovation, everything has also been crafted with sustainability in mind.
The 2023 Genesis G80 release date will bring an ultra-advanced infotainment system. It's controlled by a dial with engravings that look like the clockwork of a Swiss watch. The high-res screen seamlessly blends with the leather-lined dashboard, and everywhere you look, exquisite craftsmanship makes this cabin the new standard of luxury.
Get Ready for the 2023 Genesis G80 Release Date
The 2023 Genesis G80 EV is expected to debut in spring 2022. When it does arrive, we'll be ready to take you on a tour and a test drive. In the meantime, visit our dealership today to explore a gas-powered Genesis G80.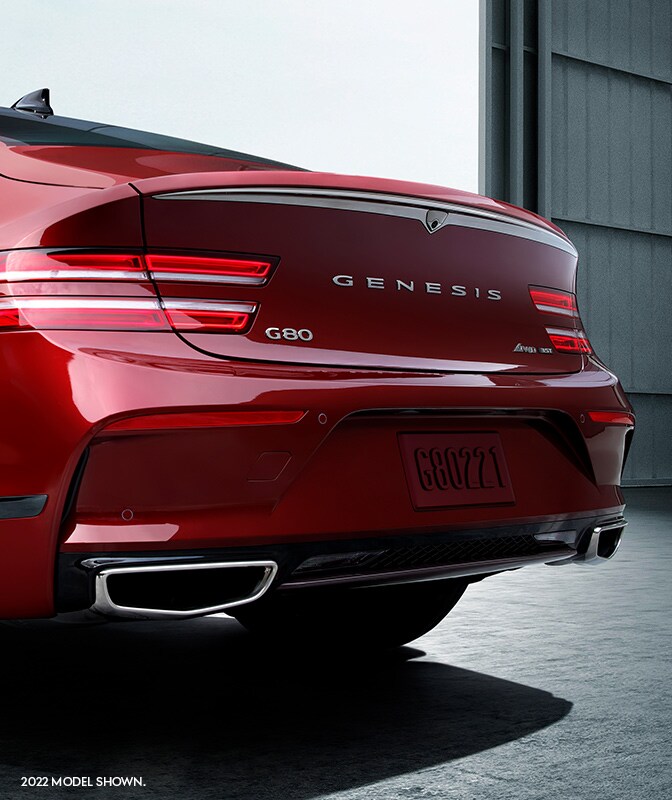 Frequently Asked Questions About the 2023 Genesis G80 Release Date
An officially-confirmed 2023 Genesis G80 release date is not yet available, but this electrified luxury sedan is coming soon. We have heard from the manufacturer that it will be released sometime in spring 2022, so stay tuned for further details, and when it arrives, you'll be able to take it on a test drive at Genesis of Atlanta.
The 2023 Genesis G80 release date will bring new features, style, power, and craftsmanship across the board. It will have a new electric powertrain that can do an expected 0 to 60 mph time of 4.9 seconds, an expected range of around 265 miles,1 and is expected to offer standard all-wheel drive. From high-end interior details to sustainable upholstery, the 2023 Genesis G80 will be the new benchmark for an eco-friendly luxury sedan.
The 2023 Genesis G80 engine will be an all-electric motor system. It is expected to offer a range of around 265 miles1 and go from 0 to 60 mph in about 4.9 seconds. Stay tuned for details on horsepower, charging times, and more.
---
1Estimated range according to third-party sources, real range may vary.