Custom Order Your New Genesis Car in Atlanta, GA

You know what you want in your new Genesis vehicle, and there is no better way to get the car you love than by getting a custom order Genesis at our dealership. We make it simple to order a customized Genesis vehicle and can help you customize your new one before having it promptly delivered to our dealership. Learn more about what makes a Genesis custom order car the perfect option for you.
Why You Should Custom Order a Genesis in Atlanta, GA
Customization is often considered a luxury for many. However, did you know that you can also customize your dream vehicle? Let us introduce you to Genesis custom orders. There are plenty of reasons why you should custom order your new Genesis, especially if you prefer some luxuries over others.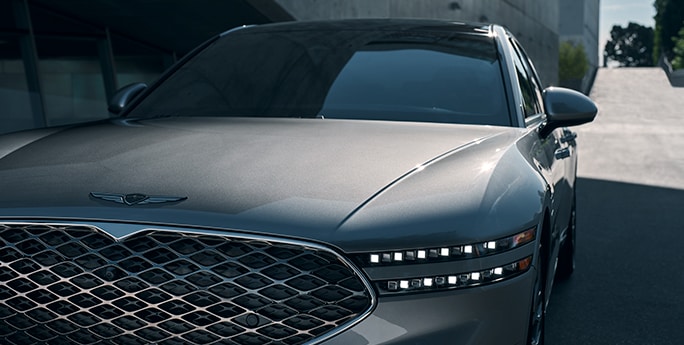 Get Your Genesis Your Way
When you custom order a Genesis, you can choose everything about your new car, from the body's color to the stitching on the seats. Whether you enjoy lighter colors for the interior or a darker, sleeker look for the body, there are many options to choose from. Find your style and dress your new Genesis to match your aesthetic. Build your own Genesis, starting with your favorite silhouette. Explore available trims and configurations on the GV80 or other popular models and go from there, getting your favorite features and more. Once you choose your base, you can choose paint, wheels, and powertrain options. Choose the tech you need, from entertainment to safety, or get sporty with more performance features. The world is yours when you customize your new Genesis.
Drive Off in Your New Genesis
Don't want to wait for new Genesis vehicles for sale to hit the dealership? Get the car you want in as little as six to twelve weeks when you get a custom order Genesis. Custom orders are a priority since you would have already bought the car. Build your own Genesis and get excited about getting the keys as soon as possible. We can help you order your Genesis and give you more information about the timeline for ordering and receiving your new custom Genesis car.


Add-On and Upgrade All You Want
Choose a custom order Genesis and get those add-ons or upgrades you want without the hassle. Making changes to a vehicle that already has the standard features can be inconvenient and more costly than just ordering a car that has the add-ons you want. If you choose a standard model to upgrade later, you'll have to get the parts, pay for the installation, and wait for the installation to be completed by a professional. Skip the wait and the trouble and order a custom order Genesis designed with you in mind.
Get Your Custom Order Genesis at Our Dealership in Atlanta, GA
Our dealership is your destination to get a customized Genesis that is everything you want and more. Learn about what features and design options are available, get help from our team while you build your new car, or contact us to place an order today. We look forward to getting you on the road in a brand-new custom order Genesis.
Frequently Asked Questions
Can you custom order a Genesis?
Absolutely! You can custom order a Genesis you love at Genesis of Atlanta. When you custom order your new Genesis, you can get the perfect vehicle from the inside out. Choose your style, exterior or interior colors, design features, and more. We can help you get a customized Genesis with all the things you need in a new car at our dealership.
What are the benefits of ordering a new Genesis vs. buying one at the dealership?
There are plenty of benefits to custom ordering your new Genesis instead of choosing one of the models at the dealership. When you build your own Genesis, you control the features and style. It can be more efficient to get the upgrades and add-ons installed that you may later want in your vehicle with custom orders. You may spend less time waiting for a custom order than a standard model.
How long does it take to deliver a custom-ordered Genesis vehicle?
When you get a custom order Genesis model, you will have to wait for your order to be received, completed, and shipped to the dealership. It can take six to twelve weeks for your new Genesis vehicle to be delivered but depending on some factors, such as availability and parts, it may take longer. We are here to help make ordering and waiting for your custom Genesis easy and convenient.
---
Custom Order Your Vehicle
* Indicates a required field